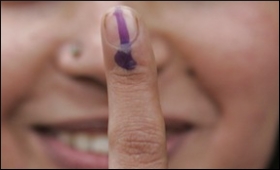 Read on as Nayana Phukan gives her opinion on compulsory voting in India.
The Gujarat Assembly passed a landmark bill which makes voting compulsory in local body polls, the Himachal Pradesh government said it favoured the same to make democracy broad-based.
Voting is the personal right of every individual. According to the constitution when an individual attains the age of 18 he becomes an adult and he has the right to vote for a participant of his own choice. Compulsory voting should be engraved in the constitution.
Voting is a right bestowed upon us by the constitution, because we are a part of the democracy. Here every individual is responsible for the making of the government.
Thus with this opportunity we should be very proud of the constitution as we all are equally responsible for the formation of the country and thus, we must use our voting right as a power for the growth of the country.
Voting should be made compulsory because many people go criticizing the government but they actually don't know the main cause, or don't care to know about it. So to make them aware that their single vote can make a huge difference to form a better government, compulsory voting could play a good role. Instead of complaining about the government one just needs to cast a vote.
It should be taken as the most important civic duty and legal right of the citizen. The compulsory system of voting might as well generates interest and enthusiasm among the people who are least bothered of their own well-being.
Instead of cribbing each time something goes wrong, give a vote to an eligible candidate who we think is going to bring a change in our nation.
We are the owners of our minds then why let some corrupt politicians lead our way.
All responsible citizens are capable of selecting their responsible leader. The decisions of the majority should be accepted freely because election is not a war. It is a way to choose the perfect leader for the nation. Many people quit voting once their voted candidate is not elected. But this is an extremely wrong thought.
We cannot ignore the fact that there is a lot of corruption on the field of politics especially when it comes to election. So it is our duty to stand against them. Every citizen should understand how important every single vote is to develop a healthy nation.
During the campaigning time of the election everyone must take interest in knowing what are the views and ideas of the candidates. If one feels that they are not satisfying their expectations, they can raise various questions. Then with further understanding they can cast their votes for the candidate of their choice.
In a few research I found that the majority of the non-voters are students. We all say that youth can show the path to success and achievement. But they themselves are not active in making the way to our success. Most students sit idle at home, enjoying a holiday on the election date. They are not aware that they can change the views of the people. The nation expects more active role by the youths.
This year a minor population of the Mumbai made up to voting, even though they were aware of the Mumbai attacks and the politicization of the same.
We all wait for five years to change or retain the leadership of the nation. When we actually get a chance then why don't we use it?
Some of the views that caught my attention were as follows,
1. "we need easier norms for voting"- S.Wahale, B.A. student, Pune
2. "When we feel that we need a proper leader for our country, then why can't we stand for our own choice? I never miss out on voting"- Nirab Barman-final year law student, Pune
3. "When we call our self educated then why don't we go and vote."- Mr Bidyut —working in Bajaj Allianz, Maharashtra
4. "I always feel proud when I believe myself to be a person whose one vote can contribute to the development of my country."- Anjali Arora, CSE student, Haryana
5. "one cannot force an individual to vote as it is not compulsory yet, and I don't appreciate the election system of our country,"- Ms Priyakshi Kashyap, BCA student, Bangalore
6. "I totally support the view that voting should be made compulsory because I know the difference it can bring"- Mr. Mohit Arora, MBA student, Delhi University
7. "what we need is a strong participation of our own people if we want to see the change"- Bhaskar Payeng, B.E. student, Chennai
8. "We all need a compulsory voting system because we need votes and views of the people so that we can fulfill the needs of all sections of people,"- Mr. R Saikia- student politician, secretary of student union.
So what do you think? Drop in a comment below or mail us at [email protected], you can also tweet us at @YouthKiAwaaz.
image: http://img.tradeindia.com/cmsmedia/
_______________________________________________
Get your free copy of our eBook 'Tips and Steps on How To Be The Change and Make a Difference' now. Click here.
Recieve Youth Ki Awaaz news in your inbox. Subscribe now! Click here.
Supporters: SaveLife Foundation
Youth Ki Awaaz is an open platform where anybody can publish. This post does not necessarily represent the platform's views and opinions.