By Khabar Lahariya:
Editor's Note: As part of this new collaboration between Khabar Lahariya and Youth Ki Awaaz, you the readers will get to read stories from the hinterlands of the country's largest state – Uttar Pradesh. And the reporters of Khabar Lahariya are unique in the way they get these stories to you. Brought out entirely by a collective of rural women, Khabar Lahariya (KL) is the only local language newspaper produced currently in local languages – Bundeli, Awadhi and Bhojpuri. These women report, write, edit, take photographs and design the newspaper and come from some of the most backward districts in Uttar Pradesh. Winner of multiple awards, KL was awarded the Deutsche Welle Global Media Forum Award and Rajasthan
Pattrika
KC Kulish Award for Excellence in Reporting on Health, most recently.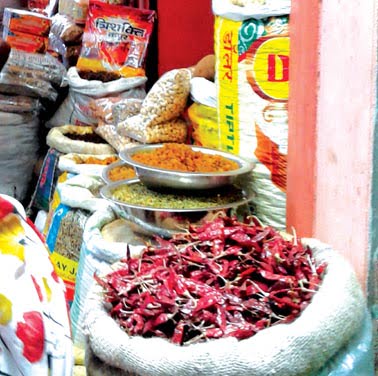 बनारस। यह तो सभी जानते हैं कि बनारस गंगा के लिए, यहां के घाटों के लिए, यहां के मन्दिरों के लिए, यहां की साड़ी के लिए, और यहां के पान के लिए मशहूर है। लेकिन इन सबके अलावा बनारस की गलियां इस शहर को अलग बनाती हैं। बनारस की हर गली अपने आप में खास है चाहे वो खोया गली हो, कचैड़ी गली हो या लोहा गली।
शुरू करते हैं बनारस की गोला गली से। यह बनारस की ऐसी गली है जहां हर तरह की मेवा और दुनियाभर के मसाले मिलते हैं। ऐसा कोई भी मसाला नहीं होगा जो आपको यहां पर न मिले।
यहां पर मेवे की दुकान लगाए चैरासी साल के शिवशंकर बताते हैं कि सालों से यहां पर मेवे की दुकान लगा रहा हूं। इससे पहले मेरे पिताजी ये दुकान करते थे अब हम करते है। शायद जब से बनारस शुरू हुआ हैं तब से यहां पर ये दुकान लगती आयी है। पूरे बनारस के लोग यहां तक कि दूसरे जिलों के लोग भी यहां से सामान लेने आते हैं।
मसालों की दुकान लगाने वाले दीपू बताते हैं कि हम खुद नहीं जानते कि हम कब से ये दुकान लगा रहे हैं। इस दुकान में ही पले बढ़े हैं। यहां पर अन्य दुकानदार प्रभु, दीना, दया और अन्य लोग बताते है, कि यहां पर सामान थोड़ा सस्ता मिलता है और हम सामान भी अच्छा रखते हैं। सबसे बड़ी बात और दूसरी कोई ऐसी जगह भी नहीं है। हमारे यहां का सामान दूर-दूर तक मशहूर है।
Brought to you in collaboration with Khabar Lahariya.
Youth Ki Awaaz is an open platform where anybody can publish. This post does not necessarily represent the platform's views and opinions.