By Vaagisha Das for Cake: 
Following Emma Watson's speech about feminism at the UN, 2015 seemed to kick off to a great start by redefining (and in many cases, introducing) the word to all aspects of popular culture, be it TV shows, movies, or even the actors themselves. Barring some, icons who claimed to be 'humanists' instead – here's looking at you, Meryl Streep – changed their stance on the issue, and the media reflected this positive trend.
Girl power is not the only new kid on the block, though. 2015 also seemed to be the year when filmmakers finally decided to give the much underrepresented LGBT community their due share of attention, and the results were overwhelming. Here are some feminist, gender positive movies with their fair share of representation, and hopefully, paving the way for better, nuanced characters to come.
Mad Max: Fury Road
This movie is refreshingly different from the typical action movies that relegate women to swooning sidekicks while the men save the day. It features a kickass female lead Furiosa, accompanied by Mad Max, who gets progressively less macho into the movie. The women play well thought out characters with substantial roles, Furiosa is anything but conventionally attractive, and even though the movie refers to sexual violence, there are no graphic Game of Thones-esque scenes, showing the movie's firm refusal to pander to the male gaze.With gorgeous cinematography and never stopping action, what's not to love?
Star Wars: The Force Awakens
Despite the original trilogy's excellent character development of Princess Leia, it is still a male-dominated empire, with the other female characters speaking a mere total of 63 seconds throughout the three. The prequels were better, but surpassing them all is the new lightsaber wielding protagonist of the new Star Wars movie, Rey. At last, one has a female character that is every bit as heroic and flawless as Luke- and she is no one's love interest. The movie also features the first female character on the Dark Side, along with others. Maybe this is the "Bechdel busting intergalactic hero" we needed all along.
Ex Machina
This movie about an AI, Ava, deemed to live or die based upon how 'human' she would look, spools out into an allegory about patriarchy itself. It unsurprisingly follows the trope of an AI who goes rogue, however, upon closer look, the movie explores the themes of female oppression and male entitlement in its unpredictable ending. Apart from addressing the literal objectification of women by building compliant sexbots, the movie focuses on male exertion of control over women- the Nice Guy Syndrome exhibited by the protagonist, contrasted yet so similar to the brutish AI owner- this movie sure makes for an interesting watch.
Spy
 In a world full of James Bonds and svelte femme fatales, this movie stands out as having none of the casual sexism and every bit of the badassery one associates with spy films. Starring Melissa McCarthy as the uber-competent desk agent who takes to the field after her colleague- Jude Law- dies unexpectedly, this movie is unassuming in its feminism. The spy, her boss and her best friend are all women- they just are, and the movie handles this theme of female friendships wonderfully. The spy is a foul-mouthed, gun-toting 'cat lady'- and there are no jokes aimed at her size. For an entire movie that wagered 65 million on one woman's talent alone, it is worth every penny.
 Angry Indian Goddesses
Being India's first all-female centric film, this movie has garnered international accolades, having received the People's Choice Award in Rome for its 'progressive' values. The movie showcases different women combating misogyny in varied situations, and steamrolls over the typical damsel in distress stereotype. Female-centric friendships are a highlight of the movie, as different women get together to celebrate a bachelorette party. At times the film seems to be trying to cram too many issues in too small a timeframe, however, the frank discussions on various topics- a rarity in Indian movies- make up for it.
Tangerine
Brilliantly talented and funny trans actors Kitana Kiki Rodriguez and Mya Taylor play onscreen trans characters in this movie about a sex worker and her best friend who try to find a cheating boyfriend. Droll and at times bitterly honest about the struggles faced by trans people, the movie is one of a kind in its gritty representation. Interestingly, the entire movie was shot on an iPhone, which gives it a warm, intimate feel. The electric energy of the movie is highlighted by the casual absurdity of the heroine's lives- aptly shown in a shampoo covered sexual encounter in a car wash- and it makes a difficult movie hilariously funny.
 Freeheld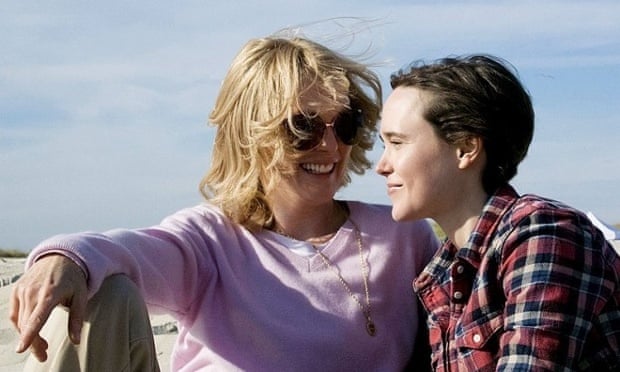 Based on the real-life story of New Jersey Police Officer Laurel Hester's battle to secure pension benefits for her registered domestic partner, Stacie Andree, when Hester dies from cancer, Freeheldcouldn't have come at a better time- shortly after the legalisation of same-sex marriage in all fifty states of the U.S. It is rare to see lesbian characters depicted onscreen, and Ellen Page's own coming out story has contributed in part to the intrigue of the movie. Even after the rights have been won, the poignant acting reminds the viewers how fresh the fight still is.
Carol
Described as 'breathtakingly poise' by Variety, actors Rooney Mara and Cate Blanchett portray an achingly beautiful account of queer love in this movie adaptation of the lesbian pulp fiction novel, The Price of Salt. The odds against them are stacked- whether it is their ages, circumstances, social standing or the oppressive male dominion of the 1950s, yet they persist- showing the full reality of what it means to be a woman in love with another woman in the prevailing attitudes about being gay. The movie received an overwhelming response, and with its sensuous portrayal of the two women's lives, it is easy to see why.
 Room
Another movie based on a novel of the same name, Room, written by the author Emma Donoghue, tells a story of confinement and hope from a five-year-old boy's perspective. It is the story of a woman's struggle to raise her son in captivity while she battles for survival and sanity. Brie Larson does an excellent job in showing the violence and disorientation that the audience seem to echo, and the unconventional theme of the movie is offset by the raw, powerful character of Ma as she explores a changing mother-son relationship while dealing with PTSD.  
Trainwreck
Amy Schumer, with her witty take on issues like sexual harassment, birth control, and other has been in the spotlight as a major feminist icon, so a movie starring her is sure to make headlines. Trainwreck is a self-aware, feminist take on the rom-com narrative full of one-liners. Featuring a plus sized woman who is sexually active, the movie overturns slut shaming and body shaming- with no disparaging references to either of these at all. While it could have been more inclusive, the movie's subverting of the traditional gendered roles in movies is a sure step in the right direction.
These are only ten of the amazing, female-centered and diverse movie that we got to see in 2015- here's hoping the streak continues, and we get more such characters in the year to come!
This article was originally published here on Cake.
Youth Ki Awaaz is an open platform where anybody can publish. This post does not necessarily represent the platform's views and opinions.