By Writu Bose:
In a country like India where at least 15 people commit suicide every hour and where suicide has become the leading cause of death among youngsters, Facebook has taken a very welcome step. The social media platform, that reaches out to almost 150 million people in the country, recently launched suicide prevention tools on its interface, in collaboration with Deepika Padukone's not-for-profit, The Live Love Laugh Foundation, and AASRA, a pan-India mental health NGO.
It's important to mention here that mental illness is still stigmatised in India and therefore, many young people, especially, take to the internet to voice their feelings, as they find it difficult to do so in person. On an average, internet users check their Facebook feed 14 times a day! Therefore, such a tool can really help make the platform a safer place and bring the issue of mental health into the limelight. Users can now access resources on helping people deal with suicidal tendencies and seek direct and free professional help.
This is how the updated tool works.
If users come across a Facebook post where it appears that a friend might be having suicidal thoughts or trying to fight them off, they can flag the post by clicking on 'Report Post' which is followed by few probing questions.
Protecting confidentiality, Facebook also reaches out to users, suggesting ways for them to cope.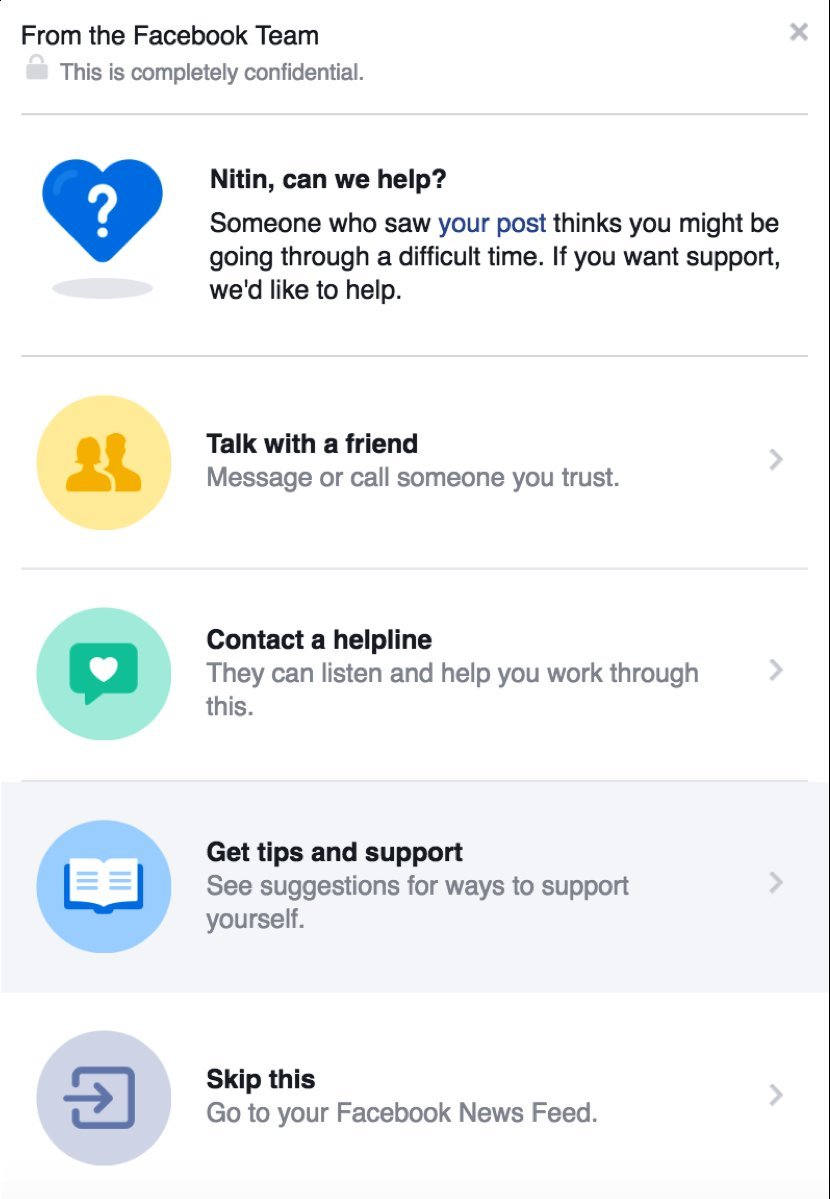 The user may resort to talk to a friend.
Or seek professional help from AASRA and The Live Love Laugh Foundation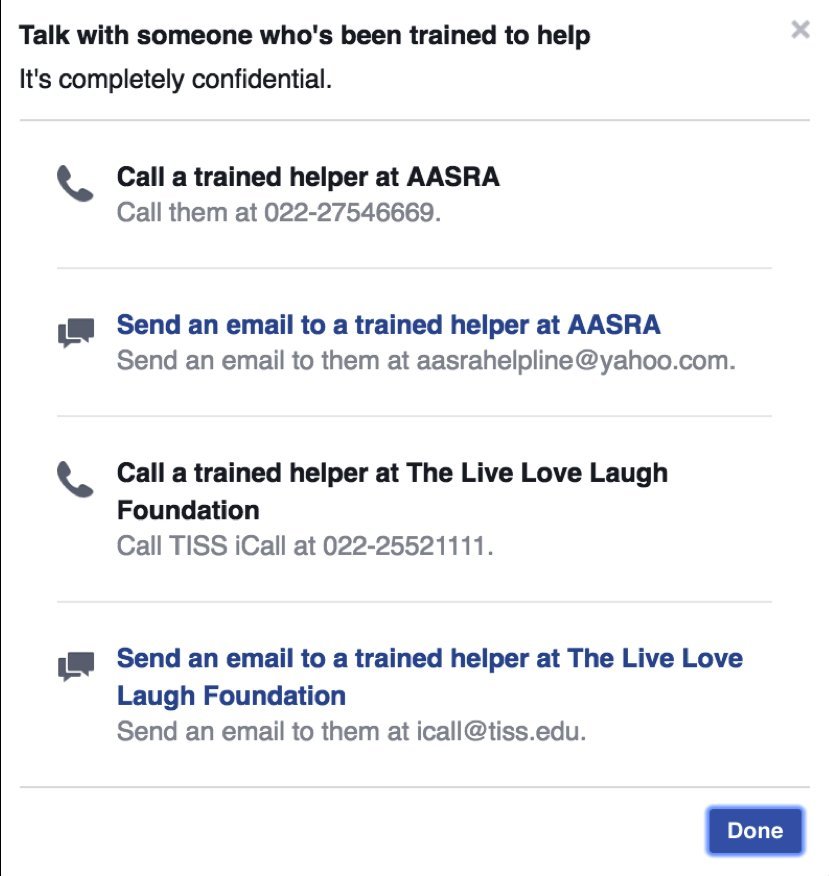 But before embarking on a self-helping, self-changing journey, Facebook proposes the users to try an array of activities to help them calm down and relax.
Other social media platforms like Snapchat and Tumblr too, provide help and assistance to users if they're facing emotional distress or abuse. Facebook had first launched this in the US in 2015. Now, it has even come out with a 'Help A Friend In Need' guide in India. Ankhi Das, Public Policy Director for Facebook in India, South, Central aptly sums up the need for this: "Often, friends and family, who are the observers in these types of situations don't know what to do. They are concerned, but they are worried about saying the wrong thing or somehow making it worse. Socially, mental illness and thoughts about suicide are just not something we talk about."
While some have questioned privacy infringement with this move, it seems like an effort to address mental health for now. It will take a while to see whether it is truly helpful or not.
Youth Ki Awaaz is an open platform where anybody can publish. This post does not necessarily represent the platform's views and opinions.