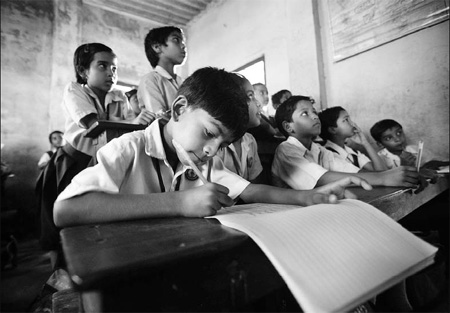 "WORK HARD IN SILENCE AND LET SUCCESS MAKE YOUR NOISE"
I as a child never understood this sentence why should I work in silence ? Why working is considered to be something you don't flaunt about ?
Recently I have witnessed my brother getting ready for college and as he was selecting his colleges I was there making him understand the importance of knowing and how much important it was that how every department of engineering functions and how much it is important to know that which field you are interested in ,but like all younger brothers he completely disregarded this and what I realised the Package / placement / anything which gave him job and good pay without any push was way more important than interest .
Now you are thinking why am I creating a big fuss out of it?
Because that brought back my entire childhood and made me realise one of the biggest flaw in our moral and education system and that is IMPORTANCE OF HARD-WORK?
What is hard-work ?
Is it the toil you do to achieve something ?
And what is that "something " is it money , fame , respect or anything else .
One of the childhood jokes that our parents , our teachers and everyone around us used to play is that :
Just do hard work in 10th standard than there is nothing more to do.
Than same was said for our 12th , entrance exams ,graduation and than finally job ?
Two things I realised out of it .
ONE _ There is no escape of hard work and you have to toil all your life .
TWO _ People are afraid of hard work they tend to make you realise that someday you will love to run away from it .
While the first one is self explanatory , it is the second one that arose a lot of question within me because I cant prove it , but thinking about certain attitudes of Indian society that made me realise that people are really brainless.
GOVERNMENT JOBS OVER PRIVATE JOB
People in India love government job and thats all because we need to work less and get a good payment , and this made me realise that what a cheap mentality we have , a hard working person is often looked down upon as compared to a person who is working less and earning as much the same.
ITS RELATION TO HISTORY
Not working hard is lot to do with the history we have lived in , Earlier the kings and queens of our country have ruled our nation have lots of comfort without even having done a slightest of hard-work or so we portrayed them , this led to a huge mentality that doing hard work is not a forte you want to excel , caste system made a rigid idea that people like that of lower caste people had to do hard work and were looked down upon and the worst part is we are still flourishing these ideas in the heads of our children .
ITS IMPACT ON SOCIETY
Easy money has led to massive corruption in our nation , because our slave minds from childhood has been fed with the idea that easy money is better than anything , so cheating frauding and finally corruption is widely celebrated in large scale , because who doesn't likes easy money .
THE FAILURE
We as family and friends are the main cause of corruption because from early ages we have fed young minds with idea that hard work is not something you need to be proud of . Hard work often involves failure and that is another thing we as Indians cant deal with , but we need to know its natural to fail , Its good to fail , it only explains that something has gone wrong and we need to improve on it.
I am a film-maker and when I told this to my parents, my parents were astonished .
But what made me worry that they weren't worried about the career , but they were worried that it involved hard work and its not something that would give me money sitting on a chair. What is a bit terrifying that they were worried that I wanted to do hard work, I was not afraid of being open about it.
Its necessary to succeed in our nation , but a success without any hard work involved is considered a gold in our nation.
The time has come that we need to leave such ridiculous ideas behind and make our children realise that there is no escape from hard work , its not merely a choice but a necessity.