Biopics are difficult to make anywhere in the world – and more so in India. Every public figure has a following and you never know who might get irked by something in someone's biopic.
Forget about celebrities, have a talk within your friends' group about writing your biography and you'll slowly realise that you can do it only after most of your friends are dead and gone – or at least nowhere on the social networks.
So, why do directors make biopics? Because we all know that there are some stories that need to be told. Take it from an 80s kid, Sanjay Dutt's story is one of the most fascinating stories the millennial generation could come to know. Unfortunately, that's not the case with the film that's masquerading as his biopic, and here's why.
I don't know Sanjay Dutt personally, but everyone knows that he's been in and out of rehab for quite some years. This happened in the 80s, the time when the American 70s came to India – the concept of sex, drugs and rock and roll. In the film, there's just an emotional reason given for Sanju becoming addicted to drugs. I don't understand why the director didn't put the whole addiction thing on a wider canvas. This is the film industry. Personal anecdote: I know executive producers who bought cars with boots so they could stash liquor and use the boots as makeshift tables in the middle of the road – and Sanjay Dutt is very much part of this film industry. Dutt comes from a family with money and contacts. These three make for a heady concoction – and that could have created a fascinating screenplay. I don't understand why this concept was not considered suitable for viewing.
There's empirical proof that the underworld became part of Bollywood back in the 70s when smugglers started hobnobbing with the actors. They got into the system big time by the end of the 80s, by investing in Bollywood. Most period pieces about Bollywood have denoted this – more recently, Amazon Prime's "Shaitaan Haveli" used this as a plot point. With Sanjay Dutt's entire story circling around the Bollywood and crime nexus, I don't understand why the screenplay skirted around this.
Finally, whatever Sanjay Dutt is, he is one of the few actors who evolved with time. He started out as a vanilla hero in the 80s, became an action hero sometime in the 90s and acted in mainstream pulp, but made his mark with films like "Sadak", "Saajan", "Thaanedaar". In fact, "Saajan" is the film in which he reinvented himself, exactly 10 years after his debut as a lead actor. After "Saajan", he once again reinvented himself with the "Munnabhai" series. That the film doesn't talk about his professional life is as infuriating as it is confusing.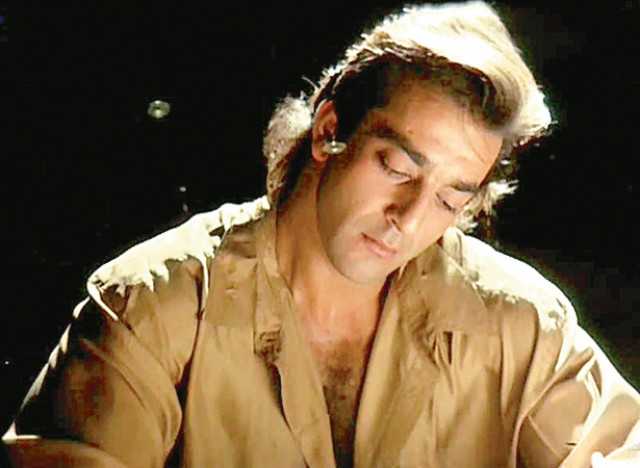 Without the film background, this story is about any of the Colaba boys we knew who were born with a titanium spoon in their mouth. It'd be fascinating for the audience to find out whether Sanjay actually liked acting or if he was just put into the family business. He has sworn under oath that he dropped out of college and did some training in acting. That shows that Sanjay made an informed decision when he faced the camera for the first time in "Rocky". So, it should play an integral part in his life – and it's so confusing that there's nothing about his films – whether it's "Rocky" or "Saajan" or "Sadak" or "Aatish". This is similar to those male characters in an Ekta Kapoor series, who run business empires worth ₹3,000 crores but still come home for dinner at 9.
But even if I criticise the film for not showing the real story of Sanjay Dutt, "Sanju" is a masterful piece of work with the right ebb and flow of emotions. Regardless of whether the film depicts the real-life story of Sanjay Dutt, "Sanju" is imminently watchable, and we have Ranbir Kapoor to thank for that.