Tabrez Ansari has been murdered, and this occurred exactly two years after Junaid was killed over a seat on a train bound for Mathura; FB memories ensured I got the timeline right.  An 'alleged' thief, Ansari was tied to an electric pole, beaten for 18 hours and forced to shout slogans of Jai Shri Ram. He was taken into custody first, and then to the hospital, where he eventually succumbed to brain hemorrhage. As I write this, my thoughts are punctuated by the recent conviction of Sanjiv Bhatt by Jamnagar Sessions Court, but perhaps that's irate rambling for another day, another article.
A few days ago, a madrassa teacher was thrown from a moving train in West Bengal for not chanting Jai Shri Ram. It might appear that throwing Muslims from trains has now become routine for the perennially hurt Hindus. While #notojaishriram began to trend on Twitter as an aftermath, the new age right-wing internet vigilantes are up in arms with tweets on whataboutery over the latest incident of violence in Chandni Chowk; the details of which are still hazy. Tweets of this ilk follow a recognizable pattern; they tend to contain disturbing and often violent images or fake and unverified information to create propaganda of Hindus being persecuted or to lend credibility to their claims.
UNESCO becomes the biggest stamp for approval as the national anthem and the Prime Minister are declared best in the world. Images of the infrastructure of other cities are routinely shared to spread false propaganda about how developed India has become under the present government. The image of the hurt and ignored Hindus always come in response to outrage over any instance of mob violence against Dalits or Muslims and are circulated with such calculative precision, and on such a scale, that there is now no iota of doubt about the involvement of organized right-wing party machinery.
Besides aggressive sharing, use of trolling is employed to attack opposition and silence any counterpoint. As a result, the myth of persecuted Hindu becomes part of the mainstream narrative. For instance, the recurrent image of a bloodied Sadhu in West Bengal is used as per convenience to question silence over the alleged assault on Hindus. Even though this "fact" has been firmly denied by Kolkata Police, the religious guru was beaten by angry family members of the girl he had sexually assaulted, the image has been getting resurrected since 2017.
A similar tactic of provocation was used in the aftermath of the Aligarh tragedy despite the refutal of rape allegations by the Twitter handle of the Aligarh Police. Not only that, celebrities like Sonam Kapoor were viciously trolled by social media users close to a right wing party for her appeal to not communalise the said murder; false comparisons between this and another odious rape and murder case in Kathua were made to insinuate yet again that Hindus were being viewed in an unfair manner.
The remarkable rise of social media in the last decade has produced new and active forms of political expression. Nobody can deny the transformative power and consequences of social media to Indian politics; IT cells and social media campaigns are important for almost all political parties. It is within this domain of high politics that one major right-wing political party has managed to tweak social media for substantial electoral and ideological gains. The Internet enables one to disseminate ideas anonymously across the globe and this has become a useful tool for the party to situate the site of national debates outside political institutions.
Anonymity on the internet proves conducive for brazen use of abusive language and for silencing criticism in a manner not possible otherwise. The relationship between these social media users and organized right-wing remains ambiguous to the public despite common knowledge that several of them are actually specific right-wing party workers or its online supporters. This creates an artificial binary of good versus bad as the online trolls (much like the gau-rakshaks (cow vigilantes) and terror accused till 2019) are considered primeval fringe that are not part of the party machinery.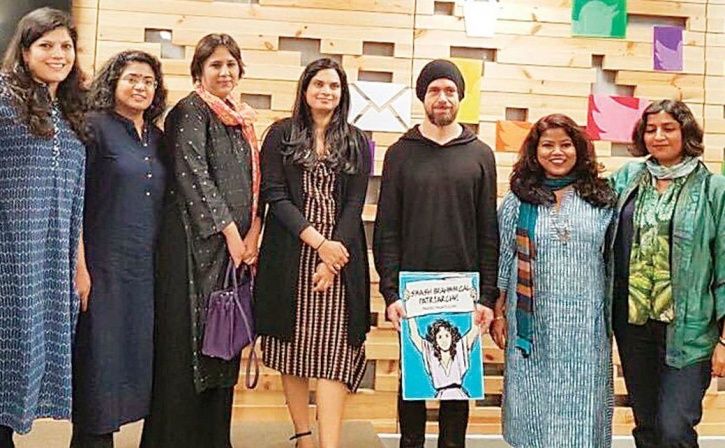 Recently, Twitter's Chief Executive, Jack Dorsey, posted for a picture while holding a placard that read "Smash Brahmanichal Patriarchy" around the same time that Twitter shadowbanned several accounts, many of which were pro ruling party or of right-wing users. Endorsement of end to caste-based patriarchal domination was deliberately interpreted by several right-wing users and supporters who dubbed it as an attack on the Hindus. They unleashed online attack so massive that Twitter had to release a formal apology. Jack Dorsey was later summoned by MPs on the parliamentary committee for information technology (he never attended that), to explain Twitter's bias against right-wing ideology.
We can see how the organized right-wing uses social media first to build a narrative biased towards its specific agenda, and then seeks intervention of institutions within a terrain that it has already been mapped out. There is also the larger question of how the political elites of the organized right-wing use social media. While the early retirement of Shikhar Dhawan from the World Cup ensured a flurry of tweets by ministers including the Prime Minister wishing him speedy recovery, death of Ansari was met with eerie silence from them which is a typical response after every case of hate crime against minorities.
Sahana Udupa has identified the relationship between organized right-wing and social media as enterprise Hindutva and one could say that it plays a role in expelling from public memory the rise in number of hate crimes against marginalized. It is important that we rethink and nuance our engagement with social media, especially in the light of horrific events that have transpired in the last few days; social media does not represent high politics anymore.