During the visit of the Deputy Secretary-General Amina J.Mohammed to India, and in the run-up to the Secretary-General's Climate Summit in September, the United Nations, in collaboration with Youth Ki Awaaz, hosted a powerhouse session with many inspiring changemakers on innovative approaches to combat climate change.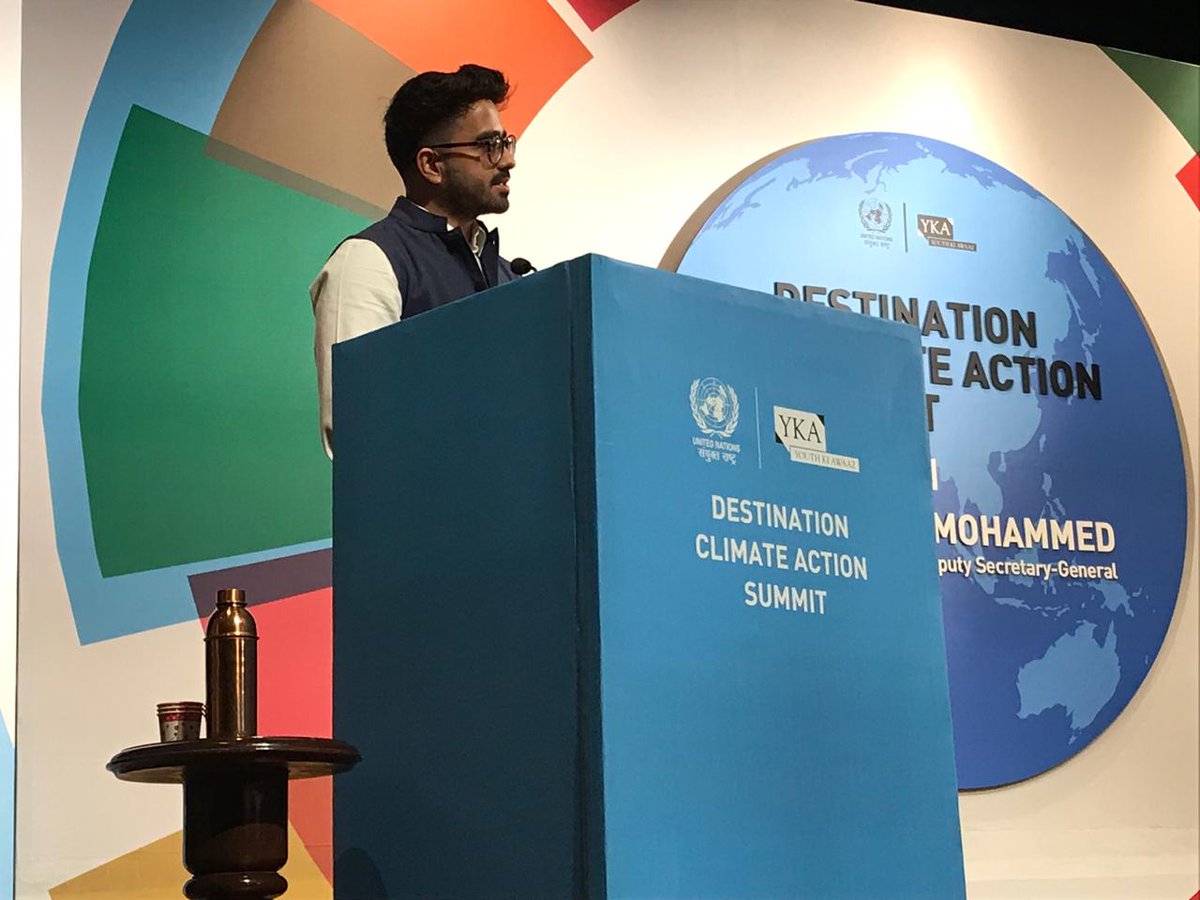 "What is it that we can do to take action, to change our future for the better. Is conserving energy in our households enough? Is not wasting water, or refusing to use single-use plastics enough?" asked YKA's Founder Anshul Tewari, setting the tone for the evening.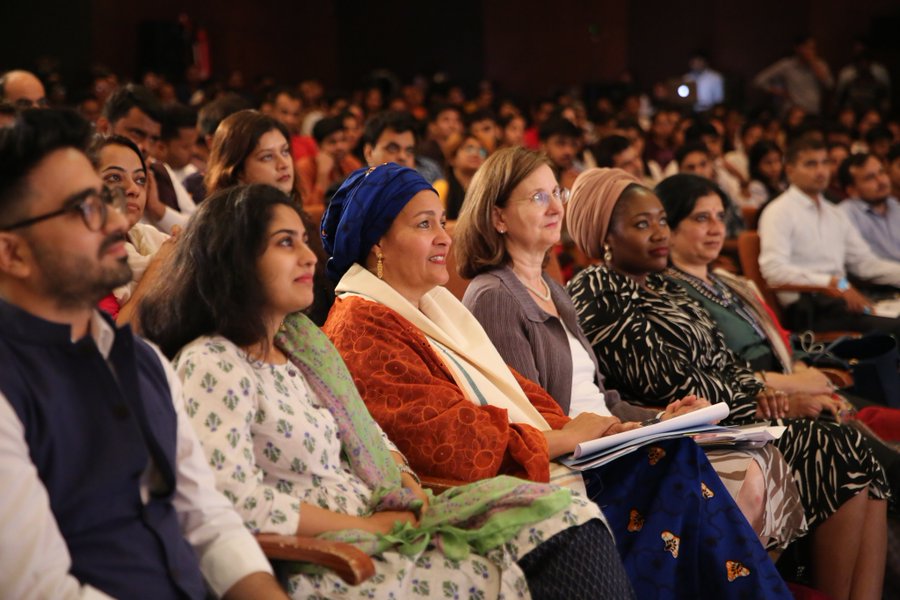 We took away a number of important lessons from the event, on taking the conversation beyond just talking about change, and taking 'sustainability' to operational levels. For those who missed it, here are some key takeaways from the event:
Five phenomenal climate champions who have led the way, and become an example of what an individual can do to impact an entire community, and in turn, the world, spoke about their innovations.
Shikha Shah, Co-Founder, And Co-CEO, Canva Fibre Labs
Shikha co-founded Canva Fibre Labs in 2017 with Shreyas Kokra, her classmate from Babson College, USA. Her Keywords are 'sustainability, scale, and viability.' Given the intensity of climate change, sustainable choices for high consumption basic needs, like textile, is crucial. Sustainable textiles, like hemp, are definitely required, but, sustainability doesn't sell at scale if it isn't economically viable for producers and consumers.
"75% of our textiles are made of polyester or cotton. The choice of textile impacts everything that follows: from how it's made to how it will be disposed of. For example, polyester disintegrated into microplastics, a problem that needs no introduction. Out of 20 trillion pieces of microplastics, a couple of them are right now sitting in your own gut and damaging your health in ways yet unknown. Consider cotton. It takes around 2750 liters of water to make one t-shirt," she said. Textile seeks alternative materials, and that's where Canva Fibre Labs steps in. "We convert agricultural waste of certain kinds into textile-fit fibers that can be used to make anything, from shoes to hats!"
"These materials are environmentally sustainable, socially inclusive, and a valid business proposition. Sustainable materials already exist, but, only scalability of technology can bring impact", Shikha said.
Tarun Bothra, Co-Founder, And CTO, Saathi Pads
Tarun is a co-founder and CTO at Saathi, which looks to develop fully eco-friendly, compostable sanitary napkins. They use locally sourced banana fiber from Gujarat, where Saathi is based. He believes that sustainability is important for our survival, and wants to make sure to give back to society. He implored us to think about why 'menstrual waste' is such a big problem. If only 16% of India's population is creating around 150 tonnes of plastic waste every year, emanating from menstrual products, it is an alarming figure. "Why are we using plastic to make a product which is such a necessity?" Tarun asked.
"One in six women in India today has access to sanitary napkins…high school drop-outs, hygiene management, they are not eco-friendly, they contain chemicals, because of which, they have a lot of health impacts. What we have to give is 100% compostable and biodegradable sanitary napkins made out of banana fiber, which is cheaper, better and faster. We don't just have an innovative model, but we follow a circular economy in which we take care of all the stakeholders in our supply chain."
Arun Krishnamurthy, Founder, Environmentalist Foundation Of India
Arun, the founder of the Environmentalist Foundation Of India (EFI), has initiated many campaigns to clean lakes across India. EFI has over 212 volunteers in Chennai and over 1000 across India. To date, they have been successful in cleaning around 93 lakes in India.
He asked the audience, when the last time was they drank from a lake, let alone swam in one, or just sat by one? "Solid waste and liquid waste get dumped into freshwater bodies as cities and urban centers are rapidly growing. If you are drinking water out of a plastic bottle (here), we need to make sure that it isn't getting dumped into one of our lakes. Liquid waste of varying kinds, shampoo or car wash, drains into these lakes," he said. "We can agree on the fact that you and I are a part of the problem. Can the solution be without us? That's where science and community-based collaborative conservation effort is important," he implored. "This includes removing the trash from the water bodies, plugging in sewage that flows into them, and scientifically reviving the water bodies through several hydro-geo-morphological standards." We need to make sure that impact is sustainable, he reiterated.
Smita Singhal, Founding Director, Absolute Water
Smita started Absolute Water in 2013, as a water management company to ensure turnkey solutions for water and wastewater management. It adopts the technique of vermicomposting, the cultivation of worms to consume and decompose sewage waste. This forms the top-most layer of a bio-filter that lets the water pass through different layers of wood, sand, and carbon, filtering the water in an eco-friendly manner.  At the final filtration stage, the water is passed through a membrane, segregating contaminated water from drinkable water.
The way things are progressing in the world right now, in the future, only a handful of us might be able to afford clean water. Most sewage flow, untreated, into water bodies, in villages across India and even in metropolitan cities like Delhi. Countries around the world are in the process of treating sewage water into drinking water, but they use chlorine for purification. That water, if drunk enough, is something that can slowly kill you from the inside, she said. "Can we do better in India, where 62 billion liters of sewage is produced every single day? Our vision is that we can drink water, straight from the taps, without thinking twice." This technology is simple, accessible, affordable, can be operated by unskilled labour, Smita explained. Our technology imitates nature she pointed out while explaining how the technology works.
Nivedha RM, Founder, And CEO, Trashcon Labs
Nivedha founded Trashcon in 2016 after she and her friends had cleared a trash-filled lane near their college, only to find it filled with trash again in a week's time. Trashbot segregates mixed municipal solid waste: from food waste, plastic, cardboard, meat, blood, diapers, sanitary napkins, and so on, into biodegradable and non-biodegradable components. Once segregated, the biodegradable component is given to farmers to be used as manure, or as biogas.
Nivedha pointed out how 95% of the two lakh tonne of municipal waste ends up in landfills and dumpsites, rivers, oceans, and because there is no space left, in front of our homes. Other than this, it is burnt. "The world said it is impossible, but someone had to do it," Nivedha said. "We're driven by a very simple dream – where I can tell my daughter, 20 years down the line, 'once upon a time, there was trash.' And my daughter answers, 'mama, what is trash?'."
Amina J.Mohamamed, in her keynote address, emphasised the need to talk about and amplify efforts by the youth. "The Climate Action summit has an incredible youth-led agenda. I don't think we've had a summit yet that is opened by young people for two days. Young people are really up there in front," she said. The DSG also emphasised the importance of turning political will into conservation efforts. "It only remains impossible till it is done," she said.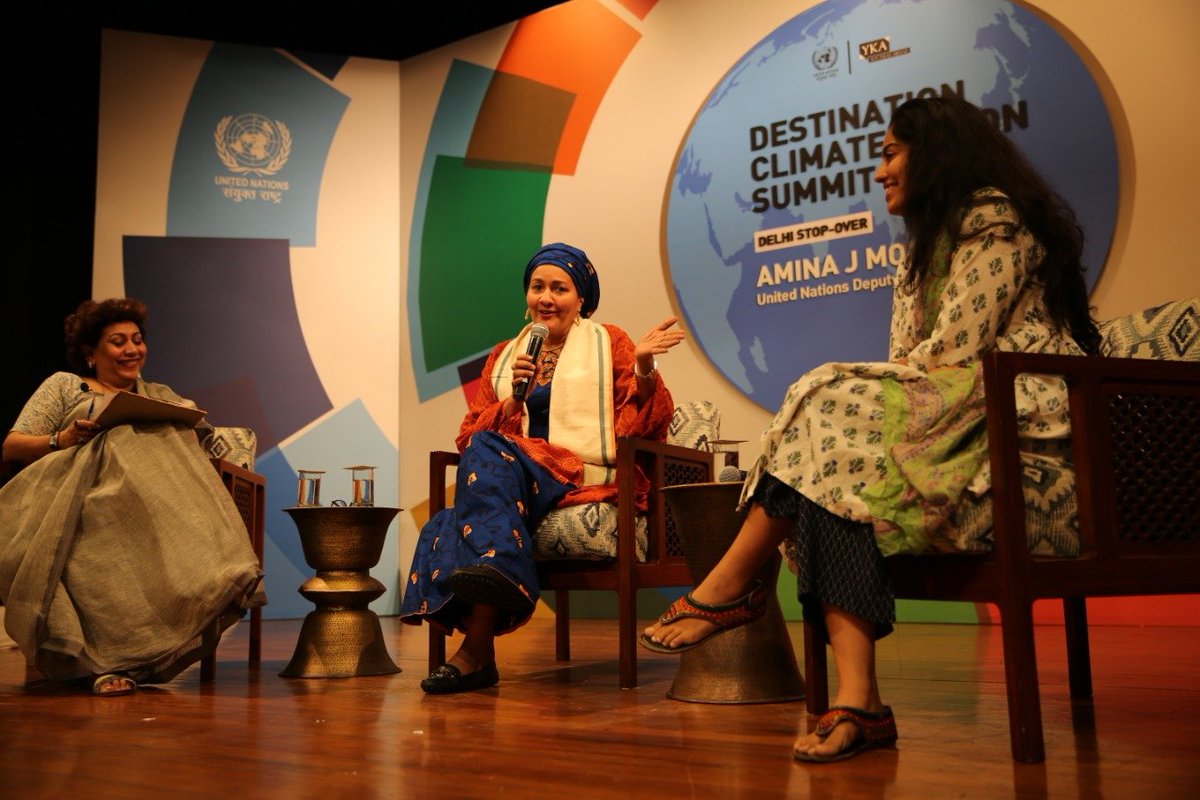 The Deputy Secretary-General said, "India's new generation, of young leaders, are agents of change." Her address reflected the UN's push to amplify the action being taken by young changemakers. Young people are already taking action, but are not being heard, she said, adding that this is the juncture where the UN wants to help. 
"We need to make countries champions so that they make pathways and open doors. Take for instance the SDGs, they are voluntary, yet we are all acting on them," Amina J.Mohammed said while interacting with youth during the Climate Action dialogue. "Don't wait to be asked, just act on it," was her message to the youth. The audience, in the venue and those watching the live video, were asked to tweet questions they had for the Deputy Secretary-General.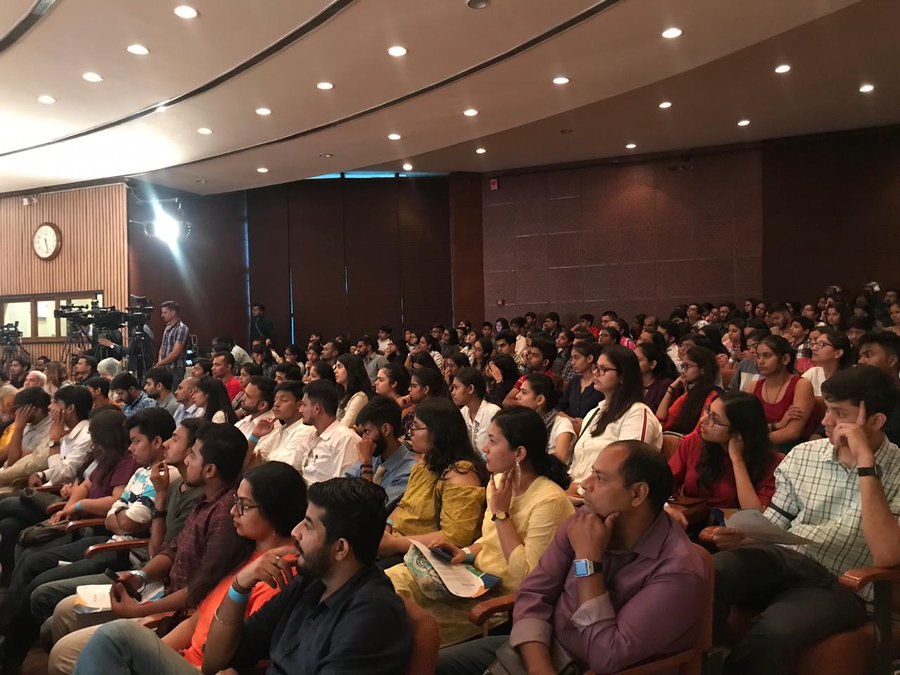 "For the UN now, it is about operationalising what we have promised to the people. This COP (COP14) should not be just any ordinary meeting, but we should be able to take away something useful from it," she said. "Come back to your countries, hold your leaders accountable, make them the champions," she implored. The DSG also reiterated the value of not leaving anyone behind, and remaining inclusive, in our approach to sustainability.
"For me, young people being proactive and thinking creatively is very inspirational and hopeful, Deputy Sec-Gen, Amina J.Mohammed said during the Q&A session with Heeta Lakhani, Youth Leader for climate action.
"We need to realise that regardless of where we're from, we have the power to change things for at least 2 people if we talk to another person. You will not solve global problems overnight, fix something that is easy and possible," Heeta said while talking about making innovation and sustainability a part of the discourse for the youth.