"An error does not become truth by reason of multiplied propagation, nor does truth become error because nobody sees it. Truth stands, even if there be no public support. It is self-sustained," said Mahatma Gandhi.
On January 26, 1950, when India declared herself as a republic, the motto which she chose was Satyameva Jayate. It has been taken from the Mundaka Upanishad, an ancient Indian source of wisdom. The slogan was made popular in the political spectrum by Pandit Madan Mohan Malaviya during the second half of the 20th century. India is not merely a political union made out of the gathering of legislature, executive, and judiciary. Truth is an inevitable value in which India is built upon. We as a nation called 'Father', the man whose autobiography is titled 'My Experiments With Truth', and explained his spirituality by referring to the truth as God. India announced her commitment to truth in her national flag through the white colour in its centre.
India remains one of the most ambitious human projects with her diversity and complexity. Despite the predictions of disintegration and civil war, she survived not only because of great political will and legacy of national movement but also because of values and symbols imprinted on her soul. When somebody attacks those values and symbols, they are attacking the foundation of India herself.
Before coming to Nehru, one should acknowledge the fact that the idea of truth is currently under threat in political discourse all over the world. In the year 2016, the Oxford dictionary's word of the year was 'Post-truth'. The publisher of the dictionary has explained the meaning as a time in which truth has become irrelevant. In the same year, the German language society named Postfaktisch (post-factual) as the word of the year. It also can be noted that the phenomenon and the rise of right-wing populism have coincided with these happenings. Digital revolution has democratised the flow of information and countries like us are seemingly suffocating our gadgets with fake news and manipulated photoshops.
Over the last few years, 'Nehru-bashing' has become an integral part of the political narrative building. Political criticism is always an inevitable sign of a healthy democracy. In a democratic country like us, we often criticise towering historical figures like Gandhi and Dr. Ambedkar. The Nehruvian model of development also has its own share of critics. However, it is important to be aware of the difference between criticism and a smear-campaign. Oxford dictionary explains the meaning of smear campaign as "a plan to discredit a public figure by making a false accusation." It is a purposeful organised effort to ruin the credibility and reputation of an individual or a group. It can use half-truths and outright lies as its tools and digital platforms can be ideal in the current era. When someone uses lies as a tool against someone, it shows not only the lack of truthfulness to the opponent but also the lack of truthfulness to the people who are to be deceived.
So, it becomes an issue bigger than factual error, it becomes the question of integrity and truthfulness to people and politics. There are many outright lies and fake photoshops using Nehru and his images which are spread through social media platforms where one can't be convinced of the source of its propagation. So, let's take some examples in which we know the source of propaganda.
Shiv Sena chief Uddhav Thackeray said something about Jawaharlal Nehru recently during the launch of the book 'Savarkar: Echoes from A Forgotten Past'. "I would have even called Nehru as 'veer' (Courageous) if he had survived jail for even 14 minutes," he said. So, the assertion here is that Nehru hadn't been jailed even for 14 minutes as part of the struggle for India's Independence.
When does a fact-check, it can be understood that Nehru was imprisoned for 3,259 days (9 years) for his leading role in the freedom movement. Convert it into the unit Thackeray used, it becomes 4,73,760 minutes in prison. If 14 minutes inside is enough for Mr. Thackeray to call Nehru "veer", one would wonder what he would call Nehru after realising what the actual fact is.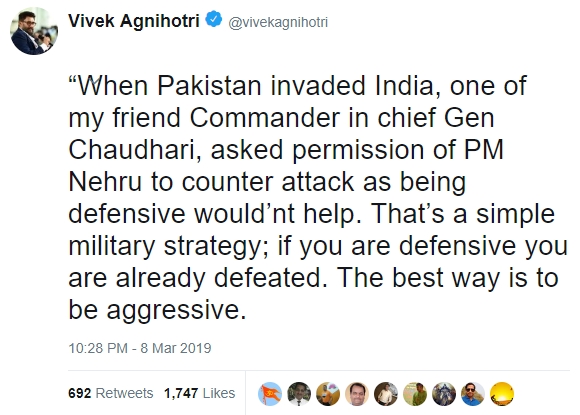 Vivek Agnihotri, a notable film director in Bollywood tweeted several times on March 8, 2019, regarding Nehru. The first tweet read like this: "When Pakistan invaded India, one of my friend Commander-in-chief Gen Chaudhuri, asked permission of PM Nehru to counter-attack as being defensive wouldn't help. That's a simple military strategy; if you are defensive you are already defeated. The best way is to be aggressive."
Vivek Agnihotri tried to establish through his next tweets that Nehru didn't wasn't just indecisive at a moment when the Chief of Army Staff was insistent on opening new fronts in the war, but also ordered his general to stop when the latter opened up a new front in Punjab, and was barely 15 miles away from Lahore.
Vivek Agnihotri was referring to the India-Pakistan war in 1965, and he evidently narrated it in a fashion which looked 'authentic'. He had details of the facts and also had given a hint of having access to primary sources related to the events by using the phrase "my friend". But, the fact of the matter is that Nehru wasn't even alive during the time, and Lal Bahadur Shastri was India's prime minister during the war!
On May 9, 2018, at a rally in Karnataka, PM Narendra Modi had asked the public whether any Congress leader visited freedom fighters like Bhagat Singh when they were in jail. Speech is mostly one-way communication. But, when someone asks a question, the public should know the answer to help the speaker. On August 8, 1929, Jawaharlal Nehru visited Lahore Jail to meet several inmates, including Bhagat Singh and expressed his appreciation of the gentleness and calmness Bhagat Singh had.
In 2018, Sambit Patra, the spokesperson of BJP, in a TV debate hosted by Republic channel, accused Nehru of saying "By education, I am an Englishman, by views an internationalist, by culture a Muslim, and A Hindu only by accident of birth." Kancha Ilaiah, a scholar and activist for Dalit rights, had used the quote while building an argument in the same year in an article published in the Indian Express. When one traces the root of the quote, it was an accusation made by N.B Khare, who was the president of Hindu Mahasabha during 1949-51,  and not something that was said by Nehru himself.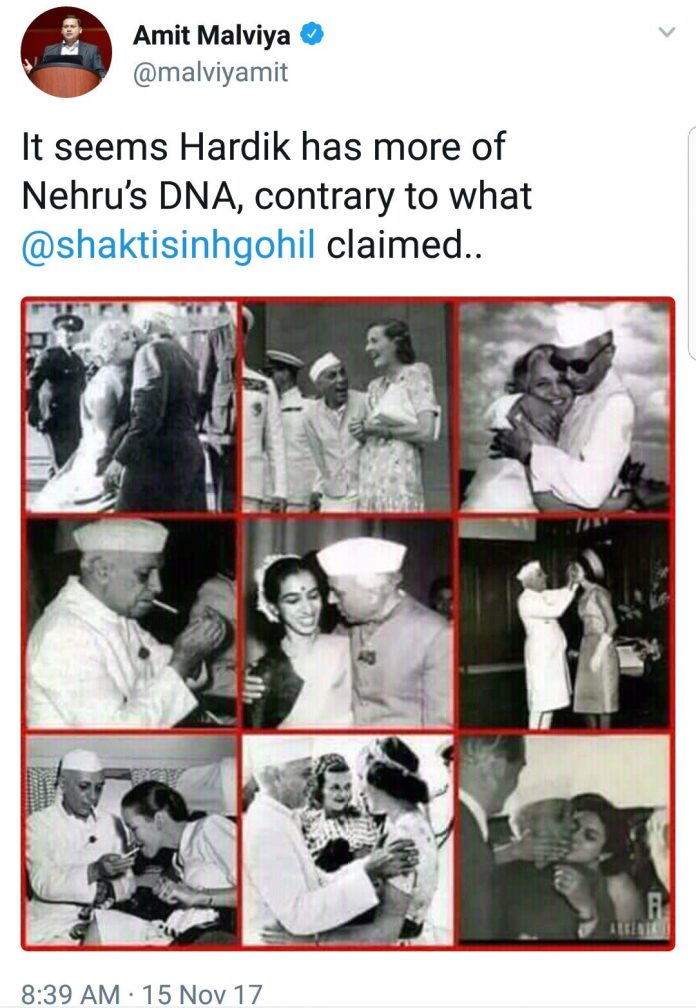 On November 15, 2017, BJP IT cell chief Amit Malaviya tweeted "It seems Hardik has more of Nehru's DNA" in the context of the allegations against Hardik Patel, with pictures of Nehru hugging several women as pictorial 'proof' for the argument. It is a shame that the pictures were of Nehru with his own sister Vijayalakshmi Pandit and his niece Nayantara Sehgal.
These are examples of blatant lies told by people who are in important positions. Compared to the continuous propaganda which is running through 'Whatsapp university', this is merely the tip of the iceberg. There are even ridiculous photoshopped images of Nehru getting beaten up by people for his 'anti-India' stands during the time of war against China. Also circulated were narratives about his family 'hiding' their Muslim identity. We are talking about a man who was one of the faces of India's freedom movement, and the statesman who served the country for 17 years as PM.
Mohandas Karamchand Gandhi, one of the most important people who laid the foundation for the Indian ethos adopted the concept of Seven social sins by Frederick Lewis Donaldson. One of those sins is politics without principle. If this is not what he meant by it, one must wonder what, then, qualifies for it. The 150 birthday of Mahatma Gandhi was celebrated last week. How can one think of Gandhi without considering the core of what his entire life was evolving around?
Without resisting the humiliation which the idea of truth is going through during our present, we can't truly start thinking of Gandhi. This methodology which is fundamentally anti-Indian in its ethos has to be understood as nothing short of sedition against values that binds our legacy. If we, as a nation, agree to compromise the idea of truth, it is nothing short of a national tragedy.
Featured Image Credit: Flickr/Wikimedia Commons
Featured Image For Representation