After the heavy rainfall in Bihar from September 28, the situation in Patna became worse as the Ganga river rose above the warning level. Many areas in the capital city were badly affected due to water-logging. Continuous rainfall damaged the area so much that there was no way left for the water to recede. Even after a week, the condition in many areas continues to remain bad, and people are going hungry and are suffering from several diseases.
Bihar's Problems Continue To Largely Be Ignored By The Country 
When anything bad happens in Bihar, it seems like people come to criticise the state, but when the state really needs support, then nobody stands by it. Those people disappear and come back when they get an opportunity to criticise the state. The state stands on its own base, and its problems were never considered by other states. Whereas, Bihar itself has been a big contributor to other states during the crisis' they have faced. Bihar not only contributed funds during the floods in Kerela but also helped during the Nepal Earthquake. But still, it seems like there is no one in the Center to think about Bihar. Media agencies poking the government and doctors in the ICU are invisible in this time of need. But, Bihar's youth have remained for the people, are have stood by to save their people from this situation.
Patna's Youth Doing What The Government Couldn't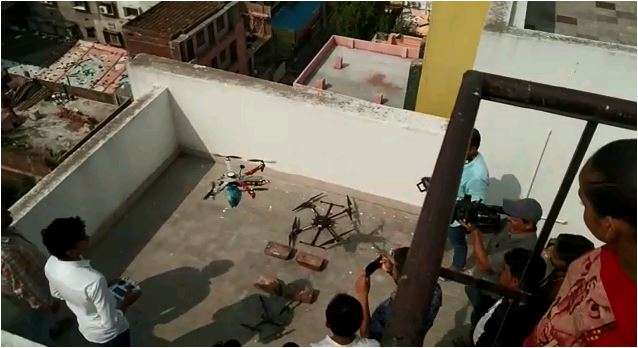 The government seems to have already given up, calling the floods "nature's fury". Patna's youth slammed the government while working on the ground. Several organisations in Patna are actively taking the initiative to help people affected due to water-logging. The condition of several areas in Patna like Rajendra Nagar, Kankarbagh and Bazar Samiti are still badly affected because the level of water reduced by just a few inches. People are still unable to move out of their houses, electricity in those areas also remain cut-off due to water-logging. But, even in this bad condition, the youth of Patna are taking steps that are being appreciated by everyone. They have risked their own lives to rescue others, and feed empty stomachs.
Youth Making The Best Use of Technology To Help People
It's has said that technology can be a boon as well as a curse. Patna's youth proved how well technology can be used to help people in need. When the local agencies stopped the use of boats, then it became difficult for the youth to reach people in need. As the water level remained around 6-8 feet, it was nearly difficult for them to use vehicles as a medium. Then, they came forward with the idea of supplying essential items through drones. The local people affected due to water-logging have been given medicines and food items with the help of drones. This is how technology can be used to save lives!
The youth have taken this up as a challenge and have helped many people with their initiative. Technological innovation was well-utilised here. The group involved in this mission includes Ranjan Mistry, Osama Khursheed, and other students from Patna University, and Shahzeb Khan, Ratan Deep, and Vikash Patel. Other student groups also actively participated in helping the people, including Ajeet Kumar and Kanhaiya Kaushik from the JDU Student Union of Anugrah Narayan College in Patna.
Besides this, there were many institutions and organisations who actively helped people, including Gautam Sawarn and the team from Chartered Commerce in Patna, Dr Akanksha Abhishek, Prabhakar Alok from DigiWale Babu, and many other individuals and organisations. If such initiatives keep continuing, then there's no doubt in stating that the time has come for Bihar to rise above the negative stereotypes and fight any challenge.
Featured Image Provided By The Author