Whenever I have opened an account on any social media platform, my bio essentially reads, "A thing for Koalas clinging on Eucalyptus trees". Why koalas? They are some of the most unique creatures, only found in Australia. Later, an acquaintance corrected me by saying koalas are just koalas, they are not koala bears!
Today, the land of koalas and kangaroos is burning at an unprecedented rate. People had created dummies of the Notre Dame Cathedral, which burned down last year in Paris, to evoke emotions as to how much biological devastation happened over the past few months.
As a generation, we are thankful to Australia and Australians, such as late Steve Irwin and his son Robert Irwin, who gave us an insight into how diverse and beautiful the planet Earth is. The continent-cum-country, known for having some weird, unusual, and peculiar species, is reeling under a heavy climate crisis.
While I was pursuing my Master's program, I was fortunate enough to learn about Australia, mostly about its geography, environment, and water governance by some guest lecturers from Deakin University. Some of the major Australian cities thrive on the Murray-Darling river basin; Murray and Darling being two of the longest rivers in Australia.
If one would look at a map of Australia carefully, all the major cities like Sydney, Melbourne, Canberra, Brisbane, lie on the eastern margin of the continent, with Perth being on the western margin, and Darwin situated in the north of Australia. More than 40% of Australia is uninhabitable owing to its deserts and due to the prevalence of Type B climate classification (Koppen climate classification).
Let's also remember that the Great Barrier Reef, situated in this very continent, is facing the problem of coral bleaching due to the warming up of the seas.
Australia is an extremely drought-prone continent. It suffered from the famous Millennium Drought, from 2000-2009, that devastated communities, industries, habitats, and industries that rely on the Murray River. This drought affected most of southern Australia, including its largest cities and largest agricultural region (the Murray-Darling basin).
The year 2006 was the driest on record for many parts of the country, and conditions remained hot and dry through to early 2010. The emergence of La Niña weather conditions in 2010 rapidly ended the drought and led to floods in some locations.
The drought placed extreme pressure on agricultural production and urban water supply in much of Southern Australia. It has led to the construction of six major seawater desalination plants to provide water to Australia's major cities, and to changes in the management of water in the Murray–Darling basin, particularly the formation of the Murray–Darling Basin Authority.
So, why am I telling you all of this? As in giving a prelude to the Australian bushfires? Because it is extremely important to understand the climate of a region before understanding climate change.

What's Causing The Bush Fires In Australia?
For most parts of the world, it is the winter season now, but for Australia it is summer. I met an old childhood friend, at the Dibrugarh Airport a couple of days earlier, who is currently studying in Australia and said that she is enjoying her vacations in India because of her summer break and her university opens in February! In short, people there go to the beach on Christmas.
Now, bushfires are typically common in Australia, which also is referred to as the 'fire season'. Also, in 2019, temperature as high as 42 degrees Celsius had been recorded in the continent, along with large CO2 emissions and prolonged drought periods.
The continent is also affected by the 'Indian Ocean Dipole' phenomenon, which is responsible for causing a hot and dry spell for the country. The Indian Ocean Dipole is also known as the 'Indian Nino' because of its similarity with El Nino. In this phenomenon, there is a difference in the sea surface temperatures in opposite parts of the Indian Ocean.
A positive Indian Ocean dipole means a wetter west and a drier east, i.e., the sea surface temperature will be warmer on the African margin which will bring in more rain and the sea surface temperature will be colder on the Australian front thus causing drought-like conditions.
Therefore, a negative dipole would just bring in the opposite conditions, i.e., warmer water and greater precipitation in the eastern Indian Ocean, and cooler and drier conditions in the west. The dipole has resulted in heavy floods in Eastern Africa, with the horn of Africa seeing some of the worst floods and has caused a mega blaze like conditions in Australia.
In both the continents, the situations have been predicted to become worse in the coming days. Already, around 300 people have died and over 2.8 million people have been affected due to the floods in the African countries. Some countries that have been affected include Djibouti, South Sudan, Kenya, Uganda, Tanzania, Somalia.
On the other hand, 25 people have already lost their lives in the bushfires of Australia, and around half a billion animals have been reported dead, causing 'extinction-like' conditions for the rich biodiversity that Australia has to offer. The fires are so bad that it has engulfed areas which are larger than some of the European countries!
There has also been news that over ten thousand camels are to be culled as they have been drinking more water in the drought-like conditions. This presents a very sad picture of the future of the globe.
The bushfires have gone out of control, with many firefighters lives at stake, who are also not paid well, during these grieving hours. Pictures and videos of animals hugging people and being fed food and water after getting saved are going viral over social media platforms.

At the same time, some images, which are mostly artistic creations of the bush fires, have been going viral too. This includes a map of Australia, which also has been tweeted by many celebrities, but has been found to be misleading, according to a report by the BBC.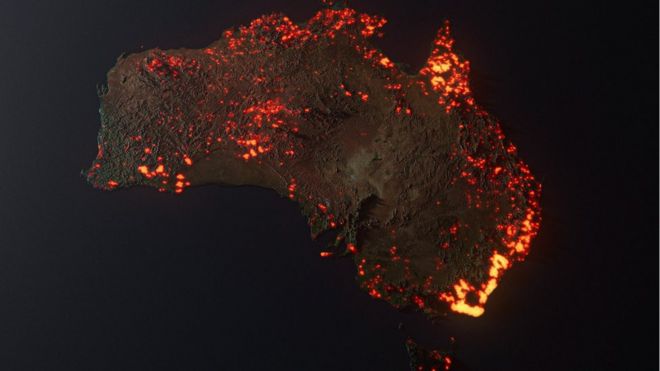 The current Australian government has been caught under a storm of criticisms, as they have been accused of not doing enough to tackle the ongoing crisis in particular, and climate change in general. PM Scott Morrison was heckled by bushfire victims and was criticised online when he was forcibly seen lifting a woman's hand for a handshake.
He was also attacked for escaping from the ongoing crisis and taking a holiday to a Hawaiian Island. He is now being popularly referred to as Australia's absent PM.
Although the bushfires were not human-induced, yet, due to climate change there are greater chances of it becoming even more violent. Already, the devastation has caused losses amounting to billions of dollars. It is about time the world got together to help Australia come out of this devastating crisis!