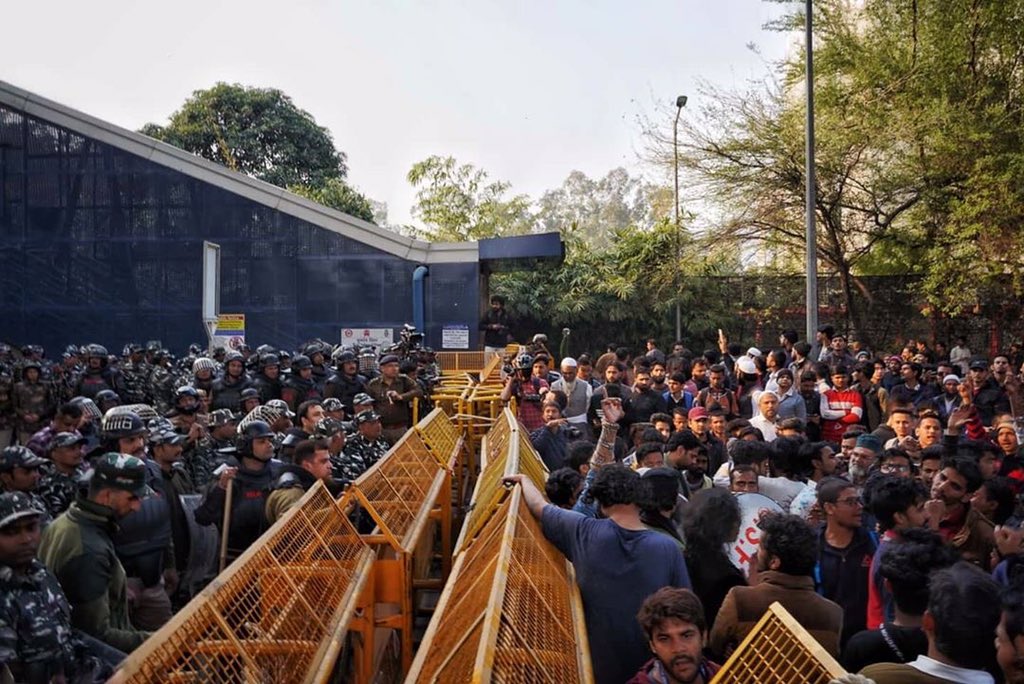 The students of Jamia Millia Islamia witnessed many attacks since December for raising their voices against the Citizenship Amendment Act (CAA). The Delhi Police have now registered a case against the "violent crowd."
During the march on Monday, against the CAA and the NRC from Jamia Milia Islamia to the Parliament, women protestors were allegedly hit on their private parts, and others alleged violent behaviour by the police, and some say they were choked.
An injured woman student of Jamia Millia Islamia said, "They were pushing us aside; they had all this gear on. They were saying that they are not using batons, but when we were in the crowd and stranded, they were pushing us and were hitting us below the belt. They were hitting us on our legs. There is a woman student who has been severely injured on her sensitive parts, which is not good. There was also a stampede-like situation, where people got choked and nauseated. That is what happened to me also. I fainted twice. We had no space to breathe."
However, an official said that no protesters were lathi-charged by the police. Around 16 protesters were admitted to the Al-Shifa Hospital, of which eight have been sent home, and among them, five are women.
On the contrary, the Delhi Police registered a case against the anti-CAA protesters for "aggression" throughout the march from Jamia Millia to the Parliament.
According to the FIR statement, "The Delhi Police, especially the South-East District, showed a lot of patience in handling the aggressive Jamia Students near Holy Family Hospital where they were forcing their way through the police barricades and trying to march to Parliament without permission, a case is being registered against the violent crowd under relevant provisions of law".
The protesters reportedly started their rally at noon, from Jamia's gate number 7 on Monday, February 10, while raising slogans like "Kagaz Nahi Dikhayenge" (We won't show papers) and "Jab Nahi Dare Hum Goron Se Toh Kyun Dare Hum Auron Se"(Roughly translates to: When we weren't scared of the British, why will we be scared of anyone?)
Some protesters had to jump over barricades as the police, in full gear, tried to stop them. As a result, the Delhi Metro Rail Corporation tweeted, "Security Update Entry & exit gates of Sukhdev Vihar are closed".
Ironically, Delhi police, on Tuesday, said that around ten people with criminal backgrounds were arrested for their alleged participation in the violence near Jamia Millia Islamia, and added that none of them were students. The police are now interrogating them and are also trying to identify the other accused who were said to be involved in instigating the events that unfolded on Monday.
Featured image credit: Twitter/Rana Ayyub