Where's the josh? Not in front of our parents, at least.
Young India can do a lot of things easily, but falling in love is not one of them. Love stories can very well be read, watched on screens, admired, listened but not tolerated to be given a space in one's own family. And, if by any chance it is accepted, then comes the round of "log kya kahenge" (What will people say?) as if its the 'log' (people) who are ever going to help you out in your shortcomings in a relationship.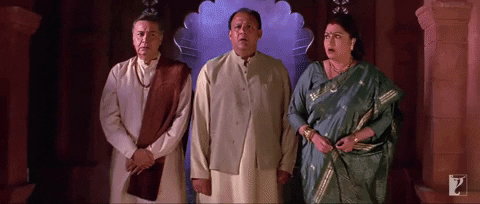 There's a taboo surrounding the word 'love', so much so that people tend to confess that they 'like' each other initially and not 'love'. Love is an intense feeling which can be harbored for anyone irrespective of caste, creed, sex, or age but not in 'our' culture.
Yes, we are talking about the same culture which still believes in child marriage (girls get married below the age of 18, and that's the truth), is against widow remarriage and obviously the same-sex marriage issue.
But, who can stop these youngsters who are always in search of a perfect partner? And, they start dreaming about it from the smiles, from Facebook likes to Instagram followers. And then, the budding romances unfold in places like CCD, KFC, or the historical monuments, or the not so well maintained parks. And, for the daring ones, Tik Tok is also around the corner!
Before falling in love young India has to check gender, religion, caste, creed, and ethnicity and, if they have fallen in love, one's economic background also has to keep up with these points. After this, if everything is alright, then comes the big task of confessing their love, (not to each other which can also be done with the help of peer pressure) but to their parents who might have had their own share of flings or heart-breaks.
The real challenges faced by young people in relationships is how to make their parents understand. The drama either starts from there or simply ends there. If after days of fighting, crying, getting beaten up, starving and others such things they agree then that's just half the victory. Then, after a lot of enmity between both the families, marriage happens then the quarter of the other half is won. The remaining quarter can never be won because parents continue to be haunted by the fact that it's a love marriage and can never be completely successful.
But that's the story of the lucky ones. Others are very easily married off to other people, and the rest of them either elope and are boycotted by everyone, or some unlucky ones are killed for doing the 'outrageous' job of defaming the family name (the names which no one really cares about), by falling in love.
But even after all these things, young India keeps falling in and out of love.
So, the above-mentioned problems were about 'love-marriages,' but now, young India is ok with a love-relationship without marriage also. Our society is built such a way that anything other than a 'legit' marriage falls under the category of 'unacceptable relationships'.
Yet, nothing stops the people to do what they want to do. But, this is slowly happening mostly in metropolitan cities and those who dream of such things have to run away to bigger cities. But, I think it is an innate tendency of an Indian to find solace in marriage, and hence sooner or later marriage catches hold of them.
Young India is many things and a 'lover' is just one of it.