TW: This article talks about harassment and other forms of violence.
"Violence against women is perhaps the most shameful human rights violation, and it is perhaps the most pervasive. It knows no boundaries of geography, culture, or wealth. As long as it continues, we cannot claim to be making real progress towards equality, development, and peace." – Kofi Atta Annan, seventh Secretary-General of the United Nations and co-recipient of 2001 Nobel Peace Prize
Hindi Cinema, commonly known as Bollywood, has given the world numerous movies on a wide diversity of topics. On the one hand, it has dabbled with genres like adventure, thriller, and suspense, while on the other it has portrayed flavours like drama, fantasy, mythology, comedy, and tragedy successfully.
Possessing the power to reach billions of people, the trend of utilising films to convey crucial social messages to society has drastically grown with the passage of time. Whether it is the simple lessons of loving your family and nation, cherishing your friendships and respecting your elders, or the ones about never giving up on dreams, providing equal opportunities to women, having respect for all the religions, and so on, Bollywood has tried to strongly spread awareness through different possible ways and means.
The Indian film industry has evolved through all these decades, both literally and metaphorically, and this change is starkly visible in the cinema it makes. 
Today, I thought of discussing with you, a thought-provoking and serious subject that has been picturised by Bollywood through different lenses: the challenges faced by women and their safety. These issues range from verbal abuse and physical torment, all the way to sexual harassment.
What are the messages and viewpoints that Hindi cinema has been trying to put in front of us through all these years? 
The (Mostly) Helpless Situation
Starting from the black and white era until almost 20 years ago, a significantly large number of Bollywood movies focused on painting the canvas with the infinite helplessness of women. Either it would be a girl who was scared to go to college without her father/brother, or a married woman who needed her husband to protect her, or a harassed mother who waited for her children to grow up so that they could avenge her.
Some of the films have gone to the extent of having scenes in which a man physically abuses a woman repeatedly but she neither raises her voice against it nor tries to defend herself, on the contrary, she wants to spend her life with the abuser (with a distant indication of changing his nature in the process!). 
Then we have films where our favourite heroes constantly follow and chase a woman to the extent which makes her uncomfortable. Even though this is considered 'not good' in our society, in the movies, it is thought of as cool behaviour! Such content is still being created, and we largely seem to be okay with it.
This also creates a sense of conflict – on the one hand, there have been many cases where men claim that they abused a woman because they were inspired by a particular movie, on the other we have people who say that reel life cinema should not be mixed with real life.
From these instances, a few points seem to be very clear. That ours is a male-dominated society. That most of us are not able to take the right stand at the right time. In other words, we get inspired by these movies as per our convenience and needs (and not because we should really do so!).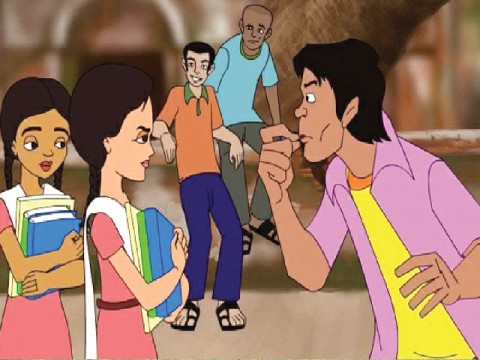 Item Numbers And Uncomfortable One-Liners
In the name of making the movies light, musical, colourful, and comic, we come across many item numbers, double-entendre dialogues, and scenes in the films that disrespect women.
Learning from these very instances, I feel the present youth-generation has gotten used to the wrong idea of flirting.
In the words of renowned director Mira Nair, "In the mass cinema, one sees outrageous item numbers where the latest Bollywood queen is in a largely male environment and she is an object of great allure. I do not think that it leads to any kind of respectful interaction between women and men."
The on-screen continuous objectification of females often has harmful impacts on women in the real world leading to various acts of violence, ranging from stalking and indecent commenting all the way to beatings and rape.
Bollywood really needs to contemplate on how it portrays women in its films. Simultaneously, the public should understand that any act of disrespect towards women is never cool, not even in reel life!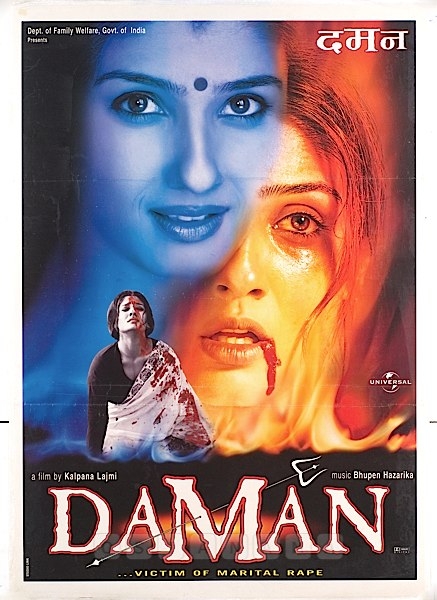 The Other Side Of The Coin
Amidst this not-so-good situation, there is a set of movies that try to effectively reflect the bitter truth of society – gender inequality and some severe consequences associated with it. Daman, featuring Raveena Tandon, is a 2001 movie that revolves around some most terrible aspects of a marriage, including marital rape.
Enraged by facing several years of torture from her husband, a wife is forced to take an extreme step. Along similar lines, Provoked, the Aishwarya Rai-Bachchan starrer film released in 2006, is based on the life of Kiranjit Ahluwalia – a woman who killed her abusive husband after suffering for a decade from severe domestic violence at his hands. 
We also have movies like English Vinglish. Released in the year 2012 with Sridevi as the main lead, this film did not have a single scene that depicted physical violence, but it can be said to portray subtle psychological abuse. It is the story of a woman whose husband is always teasing her for being illiterate.
Moreover, her elder daughter is embarrassed because her mother does not know the English language. Although the movie ends with a positive note when Shashi successfully learns to speak English, the critical point to mention here is that the psychological effects of such taunting incidences are long-term and adversely affect the mental well-being of a person.
The objective is to make society understand that crimes of domestic violence (physical or psychological) should not be repressed, rather, there is a need to take some serious steps against them.
The women characters in some of these movies often take the law in their own hands because the objective is to give the cinema-content a heroic, and hence, memorable effect. Contrary to this, we have to do the right and lawful thing in real life. One way or the other, the message is crystal clear – we need to step up and strongly raise our voice against such acts of violence on women!
Times Are Changing For The Better
In the past five or so years, we have come across some fearless Hindi movie content that has tried to convey the exactly right messages. Released in 2016 with Amitabh Bachchan and Tapsee Pannu in lead roles, the film Pink is a powerful take on the ages-old feudal mindset of most of India, in which men and women are judged differently.
It questions the society's mindset about girls and emphasises that no means no – when a woman does not agree, no man has the right to force himself on her.
Ayushmann Khurana's Article 15 is another movie that confronts many uncomfortable truths of our country in a gruesome manner. Based on the Badaun rapes in Uttar Pradesh, this 2019 film examines the horrors of caste discrimination that lurk in our society and is crippling it from within. 
A handful of films released this year (2020) boldly highlight different facets of violence faced by women and how they managed to bravely and beautifully rise back from these wounds, like a Phoenix from the ashes!
Chhapaak, starring Deepika Padukone, is a film that throws light on the scourge of acid attacks. A gut-wrenching story, it is based on the life of an acid-attack survivor Laxmi Aggarwal and sends out a strong message of standing tall in the face of adversities.
Similarly, Tapsee Pannu's Thappad is a slap on those unsaid rules of marriage that humiliate women in their own families and shatter their self-esteem in the process. A husband slaps his dutiful wife in a party to vent out his frustration and this starts an emotional battle that goes beyond domestic violence – even one slap is not okay, and moving on is not the solution!
The woman's family even tries to talk her out of taking legal action against her husband stating that women are meant to adjust to such situations. Other crucial women-oriented topics explored by this film include bearing the brunt of a family's legacy, clinging to the idea that marriage is the ultimate destination, and believing that being physically abused by the husband is the norm. 
The Netflix release Guilty, with Kiara Advani as one of its lead actors, presents an important take on the #MeToo movement. It is a brutal outlook on the perspective that society has about women. How do outsiders determine whether an act that happened behind closed doors was consensual or was a rape?
The survivor in this story does not hide and comes out openly against the accused, but instead of being supported, she faces character assassination, threats to her safety, and is even forced to make an out-of-court settlement. This movie holds on our faces a big mirror that despite all the big talk, our society does not hold a great opinion when it comes to judging a girl, and this needs to change! 
The Harsh Reality
Bollywood offers countless movies that deal with the subject of violence and abuse of women. We have seen movies that inspire such real-life incidents and vice-versa. The sad part is that many times the parents are unsupportive in real life.
I am sure many of us have heard these statements from our moms or dads – you cannot stay out of home late at night because you are a girl! try to return while it's still daylight (evening)! and so on.
Moreover, I have heard from some people that when they tried to inform their parents about the harassment they faced at the hands of a relative or friend, they were silenced since many still consider these as the hush-hush topics that should not be spoken out loud. All this indicates that there are many girls and women out there who are not safe, not even in their homes.
Instead of ignoring and suppressing them on such matters, there is a need to support and empower girls and women. Our society needs to understand that it will advance only when its women are safe. A strong emphasis, I feel, should be placed on teaching them basic self-defence tactics.
Of course, women need to speak up, but society also needs to hear what they have to say – this process can be successful only when it's a two-way communication! These issues need to be properly and practically tackled, and Bollywood, with its superpower to reach the masses, can help us with it.
Hindi cinema and the Indian society are starting to evolve for the better, but they still have a long way to go.